22:45h. La Concha bay. 30 min.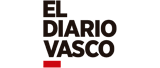 Saturday, august 13
PIROTECNIA VALECEA (ÁLAVA)
Pirotecnia Valecea is a global reference. The quality of its colours and its musical firework choreographies have garnered myriad international awards. Theirs is a family company from the Basque Country located scarcely 100 km from Donostia/San Sebastian, in Berantevilla (Álava). Valecea has some of Europe's most modern facilities in the sector. Created in 1876, the company has been passed down from fathers to sons ever since; a history of 146 years during which they have carved out an increasingly more important role in the pyrotechnics world. This is the only Basque company to make fireworks from start to finish. Pirotecnia Valecea is proud of its myriad accolades, such as those bagged at the Monaco International Musical Fireworks Competition, Pamplona International Competition, Trieste International Festival and Coimbra International Musical Fireworks Competition. But it is even more proud of being a prophet in its land thanks to Competitions like that of Donostia/San Sebastian, where it landed the Bronze Shell in 2010.
Sunday, august 14
DANCE OF FIRE FIREWORKS (UKRAINE)
The "Dance of Fire" fireworks company was created in 2001 and is one of the leading Ukrainian companies in the sector.
A first-time in our Competition, they have participated international events both in Europe (Monaco, Madeira, Courchevel and Blackpool) and in Canada (Calgary, Timmins).
Monday, august 15
PIROTECNIA MARTÍ (CASTELLÓN)
Pirotecnia Martí was founded in 1868 by José Martí Usó. Today it is his great-great-granddaughter from the family's fifth generation, Reyes Martí Miró, who runs the company. In their early days they largely concentrated on the manufacture of rockets, firecrackers and a variety of shows including dimonis and correfocs. In 2008 they started to manufacture all their material at their facilities in Onda (Castellón), going on to specialise in colour while perfecting the quality of their products. They have participated several times in our Competition. Specifically in 2006, when they won the Bronze Shell and again in 2008 when they bagged the Silver Shell and the Youth Jury Prize. Their latest participation in our competition dates back to 2014. Their achievements at other events particularly include first prize in the Vitoria-Gasteiz competition in 2011, 2015 and 2016 and first prize at the XXIV Concurs Internacional de Focs Artificials Ciutat de Tarragona in 2014.
Tuesday, august 16
PIROTECNIA SAN MIGUEL (GRAN CANARIA)
Pirotecnia San Miguel is an artisan company, a family business backed by lifelong dedication to the art of fireworks, where pyrotechnical knowhow and skill have been handed down from one generation to another. They have gradually introduced innovations, looking for new ideas and discovering new effects with the sole aim of surprising spectators. San Miguel has no doubts as to its fireworks philosophy: making fireworks is not only a question of igniting gunpowder, but it also means loving your work, recognising a job well done and enjoying public applause. Fireworks and pyrotechnics shows are synonymous with excitement, admiration, beauty, celebration and joy for the soul. Pirotecnia San Miguel is situated on the slopes of the Barranco de San Miguel, in Valsequillo (Gran Canaria), where they make good use of the gully's natural caves and their perfect conditions to store their products.
Wednesday, august 17
FULLY FUSED FIREWORKS (UNITED KINGDOM)
A company with more than 40 years' experience and an extensive background in national and international arena, Britain's Fully Fused Fireworks comes to Donostia/San Sebastian for the first time. Fully Fused Fireworks works in close collaboration with other fireworks companies in the UK and throughout Europe. In fact, its head designer, Cliffe Stonestreet, trained with the top fireworks designers and manufacturers in Italy and Spain, lending his creations an obvious Mediterranean style. His passion is to produce memorable bespoke high-impact fireworks and pyrotechnics displays with an emotional pull for the audience.
Thursday, august 18
PIROTECNIA TURIS (VALENCIA)
Artisans following the ancient tradition of pyrotechnics, founders Vicente Cervera and Gaspar Guaita set about producing an art for which they have always felt true passion with a strong personal slant designed for enjoyment by all. In 1984 they started creating their own formulas and products at their Campillo facilities in the Valencian town of Turis. Today two generations work hand-in-hand to direct this company of strong family character committed to tradition and the superior quality of their materials. Pirotecnia Turis also stands out not only for having their own manufacturing processes and powerful ambition but also for combing tradition and originality drawing on the latest in innovative trends without turning their backs on traditional Valencian methods. Winner of our city's Golden Shell in 1995.
Friday, august 19
SCARSELLA FIREWORKS (ITALY)
The Scarsella family took its first steps in 1969, when Guiseppe Scarsella joined his friend and partner Francazzi to found their first pyrotechnics plant in Alatri. Over the years, thanks to their passion, perseverance, creativity and professional approach, the company has earned a consolidated position in the design, execution and production of fine, high-quality fireworks. Making the most of the pyrotechnics knowhow and tradition passed down through the generations and with the continuous desire to improve, they create and execute magnificent pyrotechnics displays. Situated in the province of Frosinone, the company produces unforgettable events. Scarsella Fireworks' fifty years of experience are all of a guarantee in the world of pyrotechnics, specialised in the thorough planning and performance of pyrotechnic displays of all types and complexity. Today, after several expansions and acquisitions, Scarsella Fireworks has two hubs: Alatri and Anagni. This year, 2022, they participate once again in our Competition due to having carried off the Golden Shell in 2019.
Saturday, august 20
PIROTECNIA VULCANO (MADRID)
Yet another year we will bid farewell to our festive Big Week with a musical fireworks display. This time, the fireworks outfit chosen for the occasion is Vulcano, a company born in Madrid in the 80's. Its founder, José Luis Giménez Privado, Valencian by birth and pyrotechnician by vocation, worked on design and delivery at one of Spain's biggest fireworks firms. Never one to sit around and with business on his mind, he decided to set up his own pyrotechnics industry in Madrid's Villarejo de Salvanes. Working to broaden his horizons by the day, his efforts have paid off and he now holds an important place in the sector, having converted Pirotecnia Vulcano into a leading company in the Community of Madrid. Pirotecnia Vulcano specialises in traditional, musical and sequenced displays, producing multimedia shows with music and visual projections onto monuments, facades and water screens. The quality of their displays is backed by their many years in the business and their long list of accolades. Specifically, in our city, they carried off the Bronze Shell in 2014 and Silver in 2019.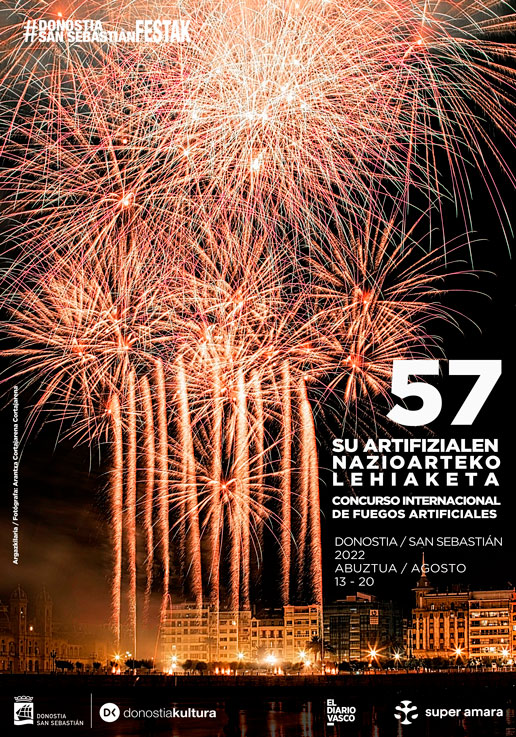 Poster 2022
Photographer: ARANTXA CORTAJARENA CORTAJARENA

The photograph illustrating the poster is the winner of the 5th Fireworks Photo Contest in 2019.
At the time of taking the photograph, Arantxa was on the Concha beach. She clicked her camera just as a bright light filled the sky. Arantxa won the Fireworks Photo Contest with the resulting picture, which now, after a wait of two years, becomes the image of this year's contest for the 2022 edition. Arantxa remembers how, at the moment of taking the picture, she felt gratitude towards all those fireworks experts who come to our city year after year, and without whom San Sebastian's Big Week wouldn't be the same.
Photography is a passion that came to Arantxa later in life. But when it did arrive, it gripped her so strongly that today she couldn't live without it.
---
Download programmeSecurity measuresJury, awards and list of winners